Advantages:
1. Compulsive cooling by water circulating on housing to avoid bad
precisioncaused by heating,long duration for bearing, good for
full load continuousworking.
2. The Max Speed is 80000r/min
3. Field balancing correction at G0.4, ensure smooth milling.
4. Fuly waterproof housing, wearable sealed washer, latest epoxy
fully sealingtechnique for coil
5. P5 precision bearing of super low noise, assembly in constant
temperature&no dust environment
6. New industrial design with smaller bulk and easier installation
andmaintenance
Item

Name

Item

Name

1

main shaft

11

stator

2

preload nut

12

rotor

3

7004CP4DB

13

7002CP4

4

inner gasket

14

inner gaske

5

outer gasket

15

outer gasket

6

M4X10 bolt

16

O ring

7

M5X15 bolt

17

pipe joint

8

front shield

18

bearing cap

9

housing

19

power plug

10

cold water running

road

20

spring washer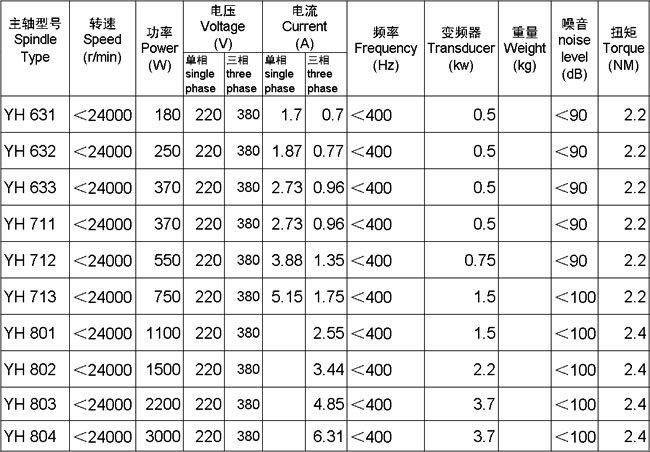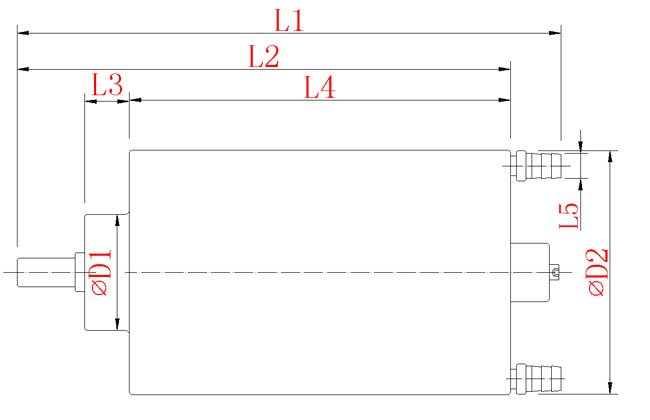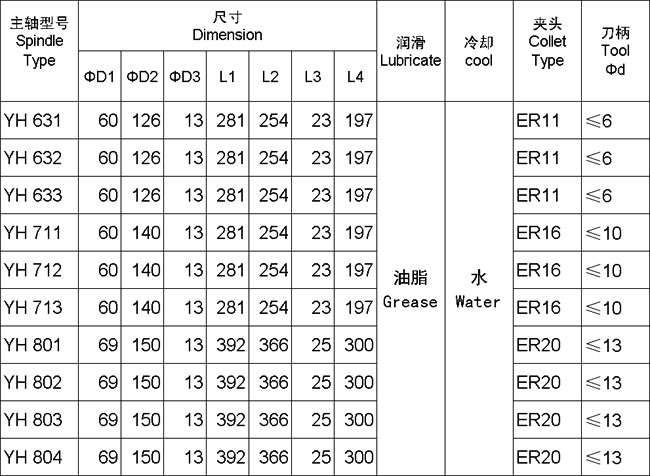 YH Electric spindle series
YH Electric spindle series is a mechanical-electrical technology
product ,due to mechanical-electrical technologyand new advanced
manufacturing .It has high torque ,low noise ,high-speed ,high
frequency ,variable speed ,easier operation and so on .in recent
years our company has started to develop gas and magnetic levitation
high -speed motor.
一、Character
1.easy to start work ,high torque ,high efficiency .
2.using super-precision bearing , ceramic bearing, magnetic bearing,
high-speed,low noise ,widely use and long life.
3.varilable speed ,working smoothly,high precision.
4.easier to use and operate
5.can match with variable frequency power ,self-protection,reliable using.
二、the note of using high-speed motor
1.before installation,operation and inspection, reading the introudce
book first,master it and then to operate the motor .
2.before using it ,watching the turning direction ,the general direction
of motorrotation is the bird see direction .if turn wrong ,stop
immediately ! forbidingthe motor to work in wrong direction .
3. water-cooled water and high-speed motor work ,need to ensure that
reliablepipes ,water clearning ,water flow ,otherwise motor damaged
due to waterleakage or no waer ,the pluming should be rubber tube
or reinforce plastic ,it should be timely replacement of aging.
4.The high-speed motor allow speed regulation,in order to extend the
new motorand the precision bears's life .new motors or bearings
replaced motor need towork at low-speed 8H and then gradually .
avoid direct high-speed working .
5 High-speed motor matchs with precision bearings or super precision
bearings,disassembly time can not directly apply force acting on ball
bearings, namely,removable spindle bearing, the force should be acting
on the bearing inner ringin order to avoid reducing the impact of
life-precision bearings .
6.With three-jaw chuck motor ,when the three-jaw chuck is installed ,
forbid tothe impact force ,in order to avoid the motor shaft and
bearing to be damaged .
7.when installing the spring clamp ,you need to remove the rotor shaft
impurities,tapered impurities,and spring clamp appearance impurities,
avoid to affect theaccuracy ,forbid using big force ,avoid the shaft
damaged.
8. High-speed motors, such as the use of a phase vibration increased,
noisy, theyshould clean or replace bearings, cleaning with 93 #
gasoline dipped more than15 minutes later, hand washing brush,
every time use cleaner gasoline, cleaningmore than five times
strictly forbidden spin, throw, hit it hard until their dry(or placed
in less than 80 degrees temperature drying), the adding of special
high-speed micro-lubrication grease, add the amount of grease to
bearings ofspace filled with a quarter to one-third of One, should
not have too much ortoo little.
9. radial thrust ball bearings (angular contact bearings) are mostly
used in high-speedmotor,the time to disassemble the motor ,
need to remember the assembling mannerand direction of the
end face of the front and rear bearings.if assemble in wrong
direction ,the inner and outer race will be separated, the shaft will
move at the radialdirection,the bearing will damage soon.